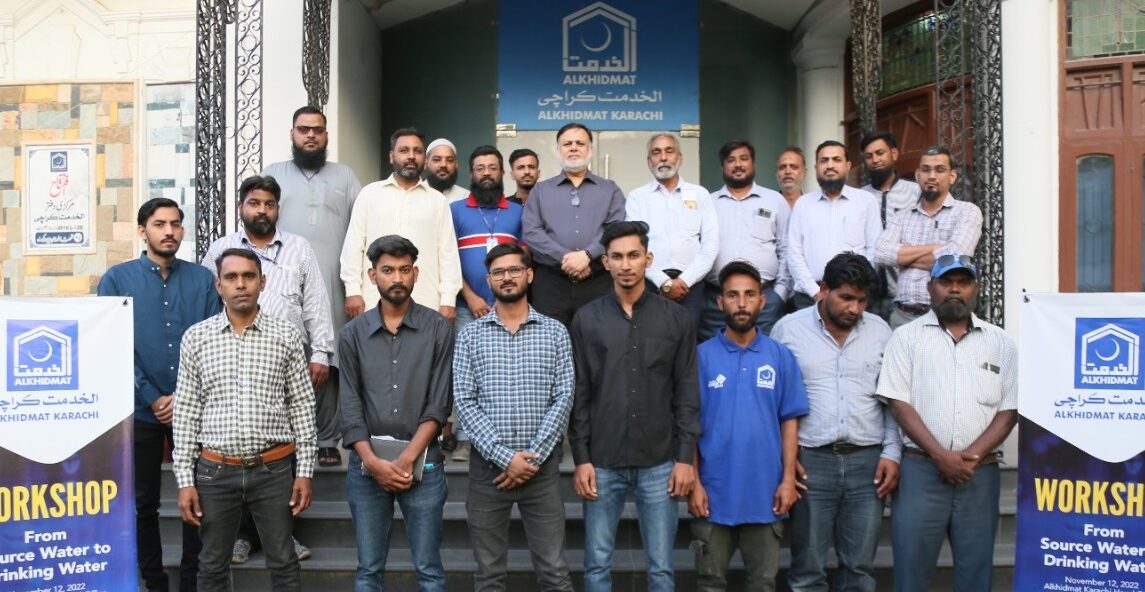 Alkhidmat organizes workshop on "Sources of Water and Drinking Water"
Alkhidmat Karachi's Clean Water department recently organized a workshop on "Sources of Water and Drinking Water" at its head office. Presided over by CEO Alkhidmat Karachi Naveed Ali Baig, the workshop was attended by Executive Director Alkhidmat Karachi Rashid Qureishi, Director Clean Water Alkhidmat Karachi Gohar ul Islam and other members of the Clean Water department. Trainer and Director Line Pressure Umar Farooq instructed the attendees on the maintenance and working of Water Filtration Plants and enlightened them on the main topic of the workshop. Addressing the workshop, Naveed Ali Baig said that Alkhidmat was working on big Clean Water projects in Karachi similar to other cities. It had installed 53 Water Filtration Plants in the city that were providing high quality water to citizens. He mentioned that Alkhidmat had set up a Water Testing Laboratory which was providing detailed reports on the quality of water being provided. Ordinary citizens could also avail this facility of getting their water tested from this lab. He added that Alkhidmat was also operating two water vans and three Automatic Dispensing Machines (ADMs) that were dispensing free clean drinking water 24 hours to citizens against their cards at different places in the city. He lamented the fact that people were getting unclean water which was the source of all illnesses and bad health and added that Alkhidmat wanted to further strengthen Clean Water project in the city. Rashid Qureishi said that it was former mayor of Karachi and President Alkhidmat Karachi, late Niamutallah Khan who had started the Clean Water project in the city following which Alkhidmat had procured the initial Water Filtration Plants from the government of Japan that were now spread all over Karachi, some of them with the collaboration of Helping Hands Relief and Development (HHRD) and TIKA, a Turkish government initiative.
Gohar ul Islam acknowledged the hard work put in by the Clean Water team and expressed his hope to continue the good work in the future too.