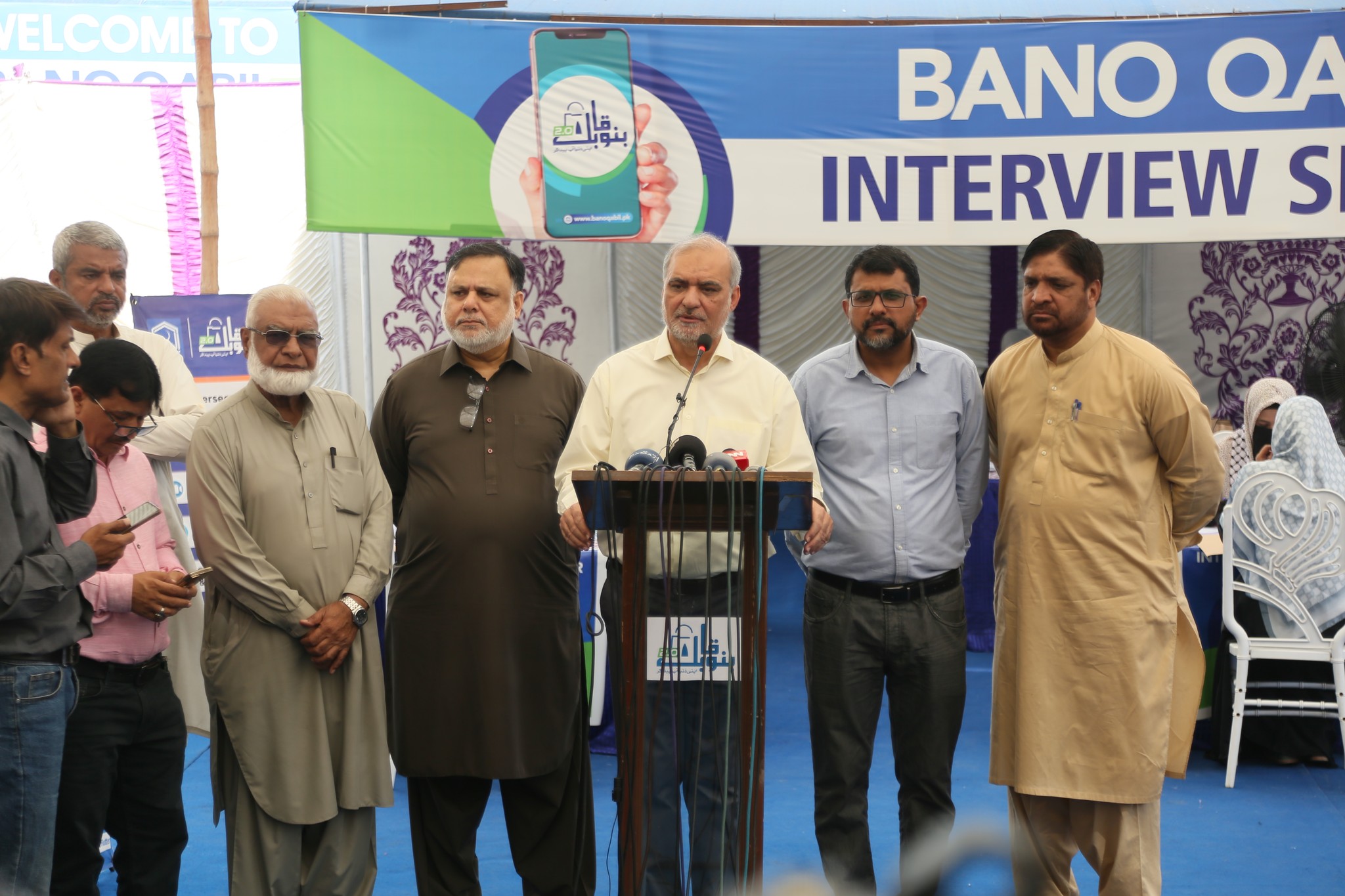 Bano Qabil program ray of hope for the youth of Karachi, says Naeem-ur-Rehman
Launches diploma program equivalent to intermediate, approved by technical education board
KARACHI:November 11: Jamaat-e-Islami (JI) Karachi Ameer Engr Hafiz Naeemur Rehman has vowed to transform Karachi into the Information Technology Hub of the country.
He expressed these views while addressing the media at Idara Noor-e-Haq– the JI Karachi headquarters here on Saturday, followed by his visit to the venue for interviews in connection with admission of female candidates in the courses under the banner of Bano Qabil 2.0.
Speaking on the occasion, Engr Hafiz Naeemur Rehman said that the Bano Qabil program has become a ray of hope for the youth of Karachi.
He said that Alkhidmat's Bano Qabil 2.0 program offers 15 free of cost Information Technology courses in 35 campuses across the city.
He said that the Bano Qabil initiative has inked an agreement with the globally recognized LRN for certification, whereas all the certificate courses under the initiative will be recognized by the technical education board.
In addition, he said that the candidates who complete three IT courses successfully will be awarded a diploma certificate by the Sindh Board of Technical Education which will be equivalent to intermediate.
He said that the JI has also been planning to launch an IT University in the mega city.
Talking about a huge vacuum in the country, he said that some 25 million people in the country are under the age bracket of 35 years who are just matriculate.
The government and the state should have thought something for those 25 million people, he said, adding that the JI took initiative to facilitate those 25 million people and other groups of youth.
He also highlighted the huge gap for expansion in the IT exports sectors and it's potential to resolve the issues of the country.
A large number of Bano Qabil 1.0 alumni have started earning livelihood with the help of skills acquired during the IT courses.
Alkhidmat Bano Qabil Project Pakistan head Naveed Ali Baig also addressed the presser. He said that Alkhidmat 2.0 also allocated quota for the participants of Alkhidmat's Orphan Care Program.
Naveed Ali Bag Chairman Bano Qabil Pakistan ,Alkhidmat Executive Director Rashid Qureshi, Bano Qabil Project Director Farooq Kamlani and others also accompanied the JI leader during the visit.