Fumigation Spray
Help Alkhidmat set hygiene standards and rid Karachi of pestilence and disease. Your donation of PKR 10,000 will help us buy the insecticidal spray and equipment that will let citizens in lower-income areas live a healthy and peaceful life.
Alkhidmat has signed an MOU with the KMC (Karachi Metropolitan Corporation) to cooperate in the fumigation of localities in the city, especially after the annual floods and animal sacrifice on Eid-ul-Azha, when there is a noticeable proliferation of flies and mosquitoes, leading to dengue and malaria, two fatal diseases. Under the agreement, Alkhidmat will provide fumigation chemicals and manpower, while KMC will provide the vehicles necessary for the spraying.
THE NEXT GENERATION IS THE FUTURE
Pakistan is facing multifarious social problems in 21st century ranging from poverty to civic ignorance and malnourishment. The country stands at 145th position at Human Development Index (HDI) and almost 50% of Pakistan's population is deprived of basic necessities. As per HDR report 27.1% Pakistanis live under severe poverty conditions.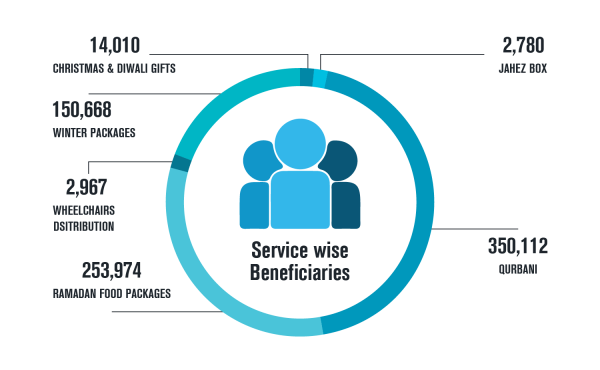 539 Million Pkr
Expenditure
58,352
Qurbani Meat Packs
36
Masajid Construction & Rehablitations
2,335
Dewali & Christmas Gifts